Blog
Nursing Homes Tell LGBT Elders, "Get back into the closet."
By Jack Halpern, CEO, My Elder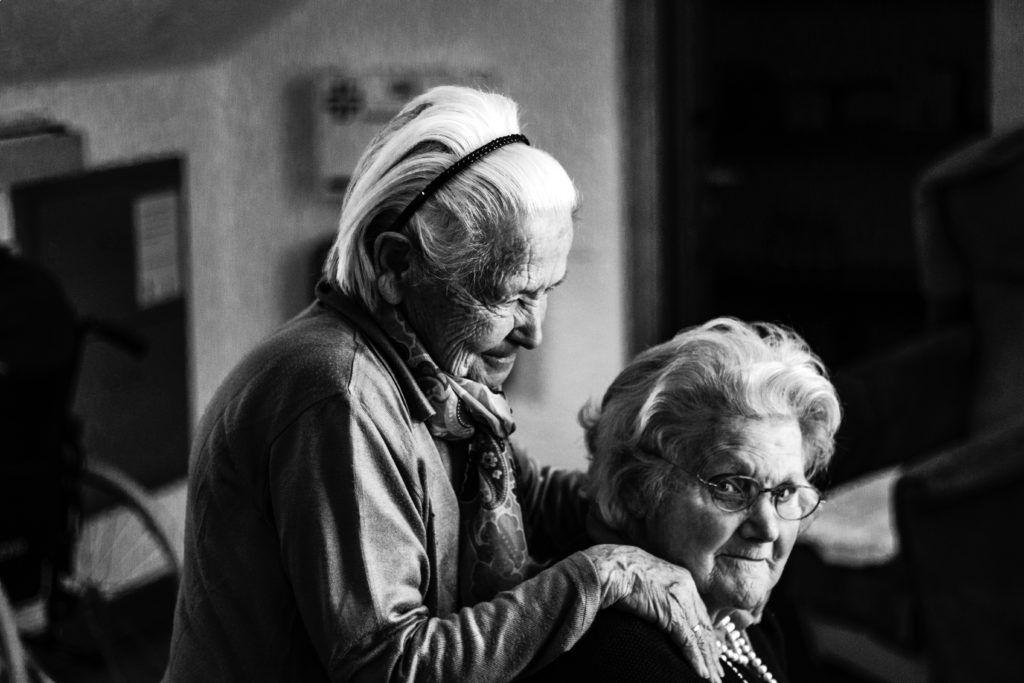 LGBT elders face discriminatory policies and live in fear each day. This is only one of the many issues seniors encounter in nursing homes, assisted living facilities and at home.
My Elder, in the course of each day, deals with many problems that elders face in nursing homes, hospitals, and at home. While all forms of discrimination in long-term care settings are egregious, the LGBT elders face a unique set of discriminatory policies and fears. The federal Nursing Home Reform Act (NHRA) protects nursing home residents, regardless of sexual orientation or gender identity.
Most adults dread needing long-term care and want to avoid spending time in a nursing home. Loss of independence and admission into a nursing home facility are the two most common fears of older Americans. For LGBT adults the fear is especially intense. A recent study found that more than three-quarters of those surveyed would not be open about being LGBT in a nursing home.
Two ladies I know, Sara and Betti, had been together for 58 years. When Sara's Alzheimer's became too much, Betti moved her to an assisted living facility. Betti could barely trust family or neighbors with the truth, let alone strangers, so she and Sara became "sisters." Much later, after Sara's death, Betti needed to move into an assisted living facility herself. She had many, many photos of the love of her life, but dared not display them in her new home. The other residents would talk about husbands, children and grandchildren, but she felt too vulnerable to tell the truth. Betti was in hiding and terribly isolated.
Related Posts
Equality For Same-Sex Couples Under New York Medicaid
Are There Racial and Ethnic Disparities in Nursing Home Treatment?
Death Panels For New York State Elderly
A recent survey of 649 LGBT elders was undertaken by six organizations seeking to better understand the experiences of LGBT older adults in long-term care settings.
When asked what issues they feel an LGBT older adult faces or might face if open about his/her sexual orientation and/or gender identity? List all that apply: abuse and/or neglect by staff; isolation from other residents; discrimination by residents; discrimination by staff. A majority of respondents (578 of the 649 respondents or 89%) predicted that staff would discriminate against an LGBT elder who was out of the closet. A majority also thought that other residents would discriminate (526 or 81%) and, more specifically, that other residents would isolate an LGBT resident (500 or 77%). More than half also predicted that staff would abuse or neglect the person (346 or 53%). Altogether, 328 respondents (43%) reported 853 instances of mistreatment. Of those who reported instances of mistreatment, 124 were LGBT older adults.
The results are compiled from four questions on the survey:
Have you, a loved one or a client ever experienced any of the following because of actual or perceived sexual orientation and/or gender identity? Refusal of admission, abrupt discharge, attempted discharge, refusal of readmission; restriction of visitors; none of the above; other/comments.
Has the staff of a facility that you, a loved one or a client lived in ever done any of the following? Refused to provide basic services; verbally or physically harassed or ostracized you/client/loved one; refused to refer to a transgender resident with his or her preferred name or pronoun; refused to let the spouse, partner, or person with the medical power of attorney or other health care directive make decisions for an LGBT resident?
Have you, a loved one or a client ever experienced verbal harassment or other abuse by residents because of your/his/her actual or perceived sexual orientation and/or gender identity?
Has the staff of a long-term care facility denied you, a loved one or a client medical treatment because of actual or perceived sexual orientation and/or gender identity?
LGBT fear these possibilities in a long-term care setting.
Fear of Being Out and Vulnerable
Verbal or Physical Harassment by Residents
Verbal or Physical Harassment by Staff
Refusal to Accept Medical Power of Attorney
Staff Refusal to Refer or Use Preferred Name
Staff Refusal to Provide Basic Services or Care
Failure to Provide Proper Medical Care
Abrupt or Attempted Discharge; Refusal to Admit or Re-Admit
My Elder provides elder advocacy services to families. Talk to us about long-term planning, finding the right home for your loved ones, preventing crisis and abuse, and ensuring they receive the best care possible.
READ FULL SURVEY- Download NSCLC_LGBT_report
Aging LGBT Elder Resources http://www.lgbtagingcenter.org/resources/index.cfm?a=3